DXRacer Formula Series OH/FD101/NR Newedge Edition Office Chair
Computer Gaming
Black /Red
Mesh & PU
OH/FD101


90 ° lift the armrest / butterfly care / carbon alloy aluminum feet / PU edging wheel mute

The Formula Series is DXRacer's answer to those seeking affordable luxury. These chairs are well-known to eSports players and their fans. We are featured by popular eSports teams such as compLexity, Dignitas, and Fnatic, and are represented at big events such as UMG and WCG. The Formula Series' high-density cold cure foam filling makes these chairs comfortable for extended use, especially for durations of 8 hours and longer. With a tubular steel frame and a nylon star base, as well as comfortable armrests, the Formula Series offers superb stability. High backrest. Most office chairs have a low back making it impossible to rest your neck. DXRacer has overcome this problem successfully with its range of high back office and gaming chairs. In addition, the DXRacer seat can be lowered degrees, to a comfortable position for power napping during long overtime sessions at night, due to its angle adjuster. you're sure to be comfortable.
Ergonomic design-- more efficiently and comfortably, Free bonus: headrest cushion & lumbar cushion
Patent race car seat breathable material strong mesh and PU
Extra higher backrest to save neck and spinal, Flexible seat back with adjustment
Special soft armrests with adjustment protect shoulders and wrists
Nylon base with latest footrests, Latest design
High straight back
Adjustable armrests with soft pad cover
Nylon base
Adjustable height gas-spring
Integrated headrest
Backrest adjustable down to a comfortable position
Conventional Tilt Mechanism
2" casters
Adjustable seat flexibility
Lumbar cushion and headrest pillow included
Packing size: 34" x 28" x 16"
Lifetime warranty on frame and 24 month warranty on parts
Recommended user BMI and height
BMI Formula
BMI = (Weight in Pounds / (Height in inches x Height in inches)) x 703
Formula Series
Recommend User (BMI<25) / Weight<200 lbs(90.7 kg) / Height: <5'10"" (178 cm)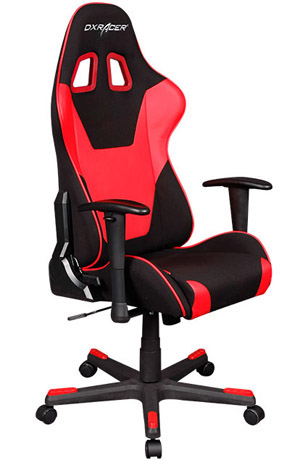 DXRacer chairs are manufactured under strict quality standards to offer our customers the ultimate level of luxury and comfort. Although this chair was originally designed to heighten the gaming experience, it is sure to become your seat of choice for working and relaxing, too. No matter the activity for which you use your DXRacer, it will take your experience to the next level.
Unlike most office chairs on the market, the DXRacer chair has a higher backrest to support the entirety of your spinal column, from pelvis to neck. Our chairs offer a stable metal five-point base with a gas spring, allowing the user to adjust for varying heights to better meet the needs of your office or computer desk.