DXRacer King Series OH/KS06/NR Newedge Edition Racing Bucket Seat Big And Tall Gaming Chair With Pillows
Antique Red and Black
Height-Adjustable Chair
Dx Racer OH/KS06 Racing Bucket Seat Office Chair Gaming Chair Ergonomic Computer Chair Esports Desk Chair Executive Chair Furniture with Free Cushions
One chair to rule them all - The King Series is a newly designed seat with 90° 4D adjustable armrests, which are padded for extra comfort. The King Series is DXRacer's widest model of chair, and offers a sleek ergonomic design for maximum comfort. This chair is designed to stay comfortable for long sessions, including those that are 8 hours or longer. This chair is fit for a King! Quality and Security-all the accessories have passed 72 strict quality tests. Imported hydraulic unit- the hydraulic unit is imported from Germany and passes stringent SGS and other international standards. Adjustable system- the height and angle of the chair can be adjusted to any degree. Full-size frame- DXRacer chair has a full-size frame inside. Footrest-shape base- our new base has been designed by teams of foreign professionals to last indefinitely.
X Large and wider design
Backrest is high and straight for great head support; Flexible seat back with adjustment
360-degree swivel base with smooth 3" double caster wheels, for easy rolling
90° 4D adjustment armrests, rocking function, heavy duty aluminum star base with the latest footrests
Adjustable lumbar pillow and head/neck pillow included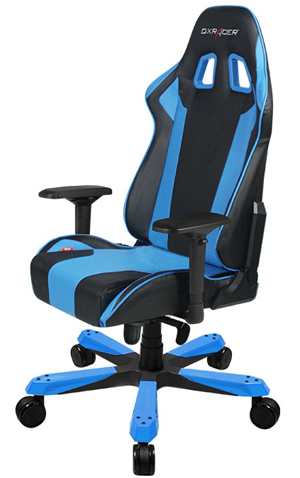 Raise and Lower, specially designed handle toggle gently and lift quickly. Balance at the desired height.
Resilient armrest surface, DXRacer imports the highest quality polyurethane high quality surfaces allow for increased comfort soft and pleasant to the touch.
Large angle adjuster, a typical feature of the chair, provides the highest level of comfort.
Multi-directional ergonomic design
3" PU casters
New designed aluminum base with footrests
Rocking function, set the seat at any desired position "Rocking" is possible in any position.
Lifetime warranty on frame and 24 month warranty on parts
Recommended user BMI and height
   
BMI Formula
   
BMI = (Weight in Pounds / (Height in inches x Height in inches)) x 703
   
King Series
   
Recommend User (BMI<30) / Weight<300 lbs(136.1 kg) / Height: <6'2"" (188 cm)
DXRacer chairs are manufactured under strict quality standards to offer our customers the ultimate level of luxury and comfort. Although this chair was originally designed to heighten the gaming experience, it is sure to become your seat of choice for working and relaxing, too. No matter the activity for which you use your DXRacer, it will take your experience to the next level.
Unlike most office chairs on the market, the DXRacer chair has a higher backrest to support the entirety of your spinal column, from pelvis to neck. Our chairs offer a stable metal five-point base with a gas spring, allowing the user to adjust for varying heights to better meet the needs of your office or computer desk.